"When you change the way you look at things, the things you look at change."  

–  Dr. Wayne Dyer
Act 1
The Customer Support Blues
"Does Customer Support have enough of a mandate to drive improvements in customer satisfaction?"
When I started thinking about writing a piece on transforming customer support, this question immediately came to mind.
It was the most "liked" question during our recent webinar – "Using Insights to Hear Your Customers, Engage Your Employees, and Improve Your Profits".
And it is a question that customer support professionals ask me most often.
Now, imagine that you are a company CEO and you are asked this very same question.
What will your answer be? I can almost picture the scene. You'll say …
"Everyone in our company has a mandate to drive improvements in customer satisfaction"
And then you'll continue …
"in the same way as everyone in our company has a mandate to contribute positively to shareholder value."
That's all very nice and as CEO that's what you'll be expected to say, and what you'll want your people to hear.
But if you run a Customer Support function and you are trying to figure out how to transform it, the reality is very far from those nice words. Believe me, I've been there.
And so, Ladies and Gentlemen, I present to you:
The Customer Support Blues 

I know I'm the foundation
The core
The nerve centre
But I don't have a voice
I'm just a cheap, low-cost renter
Seen as a complainer
No-one wants to mentor a dissenter
Silly me
I'm just a lowly Cost Centre

Understaffed
No life raft
Just a ton of hard graft
"More headcount?"
Don't be daft
Just crank the crankshaft

Managing all kinds of issues for things broken elsewhere
Is it really surprising I don't have any hair!!
Measuring things that I know are internally focussed
Asked to swarm on all issues
Like a malnourished locust

I try to remain positive
See the tunnel, the light
Do the right things for my team
Excite. Show foresight
"Hello, can you hear me?"
I've got ideas. I'm an inventor
Is no-one listening?
Silly me
I'm just a lowly cost centre!!!

Act 2
The Cost Centre Shuffle
We know it's hard, it's really hard at times to see a light at the end of the tunnel. However, there is some really positive news coming out of the webinar I mentioned before.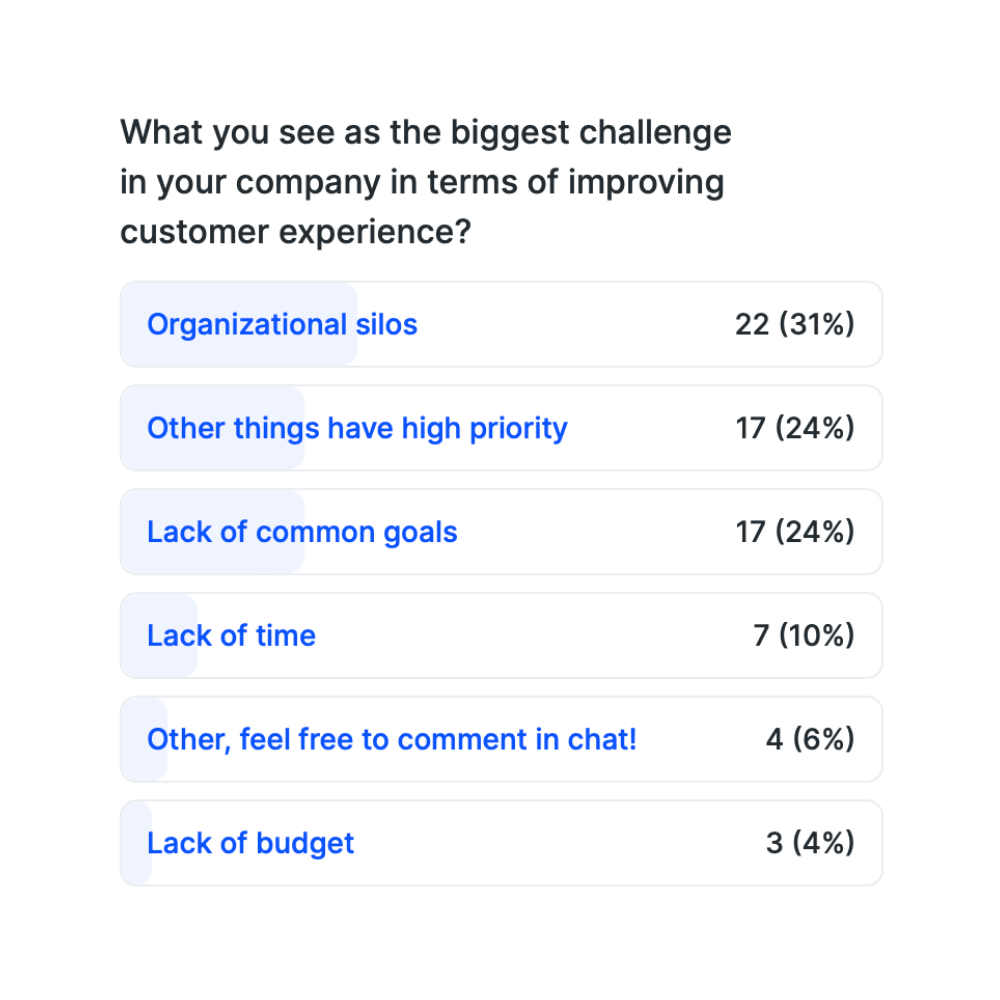 People who lead Customer Support functions are very well aware of the challenges. 55% of you mentioned having to struggle with organisational silos and lack of common goals.
You are also very well aware of where you want to go; RevOps, with 69% of you saying your primary reason for gathering customer insights is to increase revenue and reduce churn.
To me, that's hugely positive.
And what's even more positive is that Customer Support teams have a valuable asset in their hands. You have data. Masses of current, contextual, insightful data.
This changes the perspective and unlocks opportunities.
It gives you:
A strong voice;
A seat at the table;
The platform to show everyone that you think RevOps (instead of CoreOps)
So, why not change the perspective on the initial question?
"Do I have a mandate?"
If we change it to "How might Customer Support drive shareholder value?", it forces us to think differently. (Your CEO self is happy now).
It's incredible what reframing the question can do.
It forces us to think differently. In a creative way. Not problems, but solutions.
Ladies and Gentlemen, I give you …
The Cost Centre Shuffle

Reframe the question
Bring a different outlook
Solutions not problems
Rewrite the Cost Centre book

Walk in the shoes of others. Ask
"What does Sales need?"
"How can I help Product?"
"What will make Customer Success succeed?"

Reduced churn
New opportunities
Satisfied customers
Bigger communities

Less complaints
More references
Understand other's preferences

"Response time" 
"First call resolution"
Are these really insightful
Or just noise pollution?

Why waste so much time on internal measures
Just to prove you are 'green'
Oh, you vain little treasures!

Be bold
Shout out loud
"I'm amber and proud"

"I'm using the data 
To get key insights
The sentiment. The themes. 
The wrongs and the rights"

33% of customers say personalisation is lacking (1)
More customers are now complaining (2) 
Wow!
How nerve wracking!
The wrongs. So important
You got to stop churning
Listen to Bill Gates
"Your most unhappy clients are your greatest source of learning"(3)

Then proclaim with pride
"I've got the insights to guide"
Insights
Like flashlights
Shine the path. So bright

They're the voice of your customer
So not controversial
And quickly you'll realise
They're extremely commercial 

You can monitor in real-time
Apply alerts
Show your value to your business
Make them converts

You can measure what matters
In real-time too
And … the best thing of all 
You can link to revenue

The Cost Centre Shuffle
Is quite a long rhyme
There's a bit to be done
But all good things take time

The end justifies the means
A strange saying but true
Follow the Cost Centre Shuffle
AND BECOME REVENUE

Act 3
What a wonderful world
I hope you're still with me.
Congratulations.
We can do this.
You can do this.
There is now customer insight technology that can, in real-time, identify sentiment, uncover insights, and determine trends. And once you are able to make the match between a "trend" – or call it an "emotion", say for example "ease" – and an outcome, then you can measure it.
A simple example.
Assume that your Customer Insight technology tells you that:
8% of your calls can be categorised as "lack of transparency", where customers contact you to find the status of a process or get an update on something (e.g., delivery, payment, application)
95% of these calls can be classified as dissatisfied customers
30% of these calls resulted in escalations or complaints
You might determine – and you would be right in doing so – that these are non-value adding customer calls. The information could become the basis for a conversation with product and for the development an ROI-positive self-service business case.
Once the plan is implemented, you will be able to measure the impact – e.g., reduced call volumes, increased customer satisfaction – and show that you have moved towards more value-adding customer contact.
But most significantly, you are able to connect your Customer Story to your Money Story.
"Connect your Customer Story to your Money Story"
This is the only phrase I'm repeating. You have to remember this phrase. It's your passport to success.
It means that you can show that an increase in X delivers a commercial benefit of Y.
And it means that you have connected Customer Support to Customer Satisfaction to Shareholder Value.
CONGRATULATIONS
Now you have people's full attention.
You can now start to emphasise your RevOps credentials, as the insights you're providing are the foundation for so many things.
They help define customer journeys and emotions.
They establish a direction for your product.
They inform organisational design and cultural values.
They show you where you can enable other teams – for example, Sales – to be more productive.
And from there, you can democratise the data, empower people and hold them accountable.
And before we get to the closing, let me throw another couple of stats at you.
70% of consumers say they have already made a choice to support a company that delivers great customer service.
For 73% of customers, friendly employees or customer service representatives are what make a memorable experience that causes consumers to stick with a brand.
By now, it should be clear that I like to do things a bit differently. I do think that, especially for those of us in Customer related roles, we need to challenge more and push the boundaries. We do have an obligation to represent the voice of our customers into our businesses. And the voice of our businesses out to our customers.
I'm not saying it's easy. It needs determination, resilience, and a belief in what we are doing.
But so long as you connect the Customer Story to the Money Story, people will listen.
And your fellow Customer Support professionals (or more broadly Customer Experience professionals), the community we are building, is there to help you. You're not alone.
I hope you've found this rather offbeat blog useful, and that it inspires you to believe that you do indeed have enough of a mandate to drive improvements in customer satisfaction.
My play in 3 acts obviously must have a happy ending.
Ladies and Gentlemen, I give you
It's a Wonderful World 
(if you know the tune then sing along …)

I see dashboards of green
(OK - some amber too)
Customers are happier
Than I ever knew
And I think to myself
What a wonderful world

I see a clear path ahead
Now I use insights
More satisfied customers
No more sleepless nights
And I think to myself
What a wonderful world

The feedback from the customers
Is for everyone to see
We've linked 'customer' to money'
Hardwired A to B
I have a seat at the table
Where people ask for my view
They're also really saying
"Well done you"

My team is now excited
I watch them grow
They'll learn much more
Than I'll never know
And I think to myself
What a wonderful world

Yes, I think to myself
What a wonderful world

(1)  Accenture: 33% of customers who abandoned a business relationship last year did so because personalisation was lacking
(2) Deloitte:	Even though fewer customers may be experiencing problems, more customers are inclined to complain about customer service problems than ever before.
(3) Your most unhappy customers are your greatest source of learning. Bill Gates Business @ the Speed of Thought (1999)

---
About Richard Jeffreys
Richard Jeffreys is a CX leader with significant experience gained from a variety of executive roles in FinTech, Investment and Corporate Banking. Richard, who is Human Centred Design Certified and a Six Sigma Black Belt, has lived and worked in US, Europe and Asia working with companies such as J.P. Morgan, Deutsche Bank and Standard Chartered Bank.
His impressive résumé also includes transforming a customer service function of 800 people and 40 locations (people, process and technology) and designing a new digital product from customer insights with >$25m revenues in Year 1. 

Richard founded CX All to bring these experiences to help companies design, embed and grow their Customer Experience, Customer Success, Customer Service and Digital capabilities, ultimately helping companies answer the question "How does Customer Experience directly drive shareholder value?" 
Richard can be reached via LinkedIn at https://www.linkedin.com/in/richardjeffreys1/.