At this point, most companies can agree that the customer is important. But, beyond it feeling good to provide customers with excellent experiences, it also earns companies money. In fact, the 2017 report Insights-Driven Businesses Set The Pace For Global Growth found that organizations driven by customer insight are growing eight times faster than the global GDP.
Insights-driven doesn't mean that only your customer-facing teams are focused on your end users, though. It means everyone is focused on them. That's right: every single team within your company can benefit from learning a bit more about your customers and what they're thinking. Let's dive deeper into how four departments (product, marketing, support and the executive team) can benefit from customer insights.
Using Customer Insights with Product
Your product team is the most immediately affected by the insights that your customers have. Kate Pinkham, Vice President of Consumer Insights and Market Intelligence at Wolverine Worldwide, puts it best: "consumers themselves…are changing quickly. Insight communities allow us to bring the perspective and needs of our consumers into the product development process early on."
By letting your product team in on customer feedback and experiences early, they're better able to shift strategy and be more inclusive of changes. Take, for example, the story of Gatorade:
Once a leader of the $6BN sports hydration segment, in 2006 Gatorade faced a serious decline in buying. The brand was lagging behind competitors based on its inability to diversify outside of health beverages. Ultimately, Gatorade partnered with research firm Prophet on an extensive consumer research project to better understand what its customers wanted and why.
They learned that their customers didn't just want drinks, they wanted sports fuel; including food, gels and snacks. They pivoted strategy based on this feedback, and were back to 15% growth in just one year.
Customer feedback saved their brand from going under—all they had to do was listen.
Your product team can do this, too. Pass along user insights—specifically feature requests and bug reports—as soon as you have them to help your team have even more impact.
Another example where many tend to use customer insights are early-stage companies and startups. Modash.io, a brand ambassador search engine used customer insights to pivot their product.
" Without customer insights, we wouldn't have made the critical changes to our product and the company would most likely have failed. Till this day we rely heavily on our customers to decide in which direction we need to take our product. " – Matthias, Marketer at Modash.io.
Connecting Customer Feedback with Marketing
Your marketing team is the best when it comes to connecting with your users. They know when and where to reach out, what people are interested in, and how best to connect. That being said, those definitions can get stale if they aren't consistently keeping up with shifting tides. That's where ongoing customer insights come into play.
You're probably familiar with the Got Milk ads, but you might not know their back story—one that relied heavily on user research.
In 1993, milk sales were dwindling in the face of sodas and other fizzy beverages. Jeff Manning as the executive director of the California Milk Processor Board knew that milk was still popular, but had trouble figuring out what the best way was to reinvigorate consumer interest.
The Board partnered with Goodby, Silverstein & Partners to do some user research. Ultimately, what they uncovered was that people liked to wash down their sweet foods, like brownies, cookies or peanut butter and jelly sandwiches with milk. Furthermore, they felt "deprived" when they ran out of milk at home and were unable to follow up their tasty treats!
Research has shown that 74% of consumers become frustrated when content seems to have nothing to do with them personally. The California Milk Processor Board saw this, and took advantage of it. Their new "Got Milk" ads targeted people with that feeling of "deprivation" and often depicted people running out of milk when in the home. Their sales jumped from $740m in 1993 to $755m in 1994.
Your marketing team can use deeper customer insights to remain connected with what your users actually like and resonate with, instead of just assuming.
Using Customer Feedback for Better Support
It should come as no surprise that remaining connected with your customers and how they are feeling is important for your support team's success. Beyond understanding how they feel, knowing your customer also helps your team prepare for where they might go moving forward.
Understanding your customers helps your team know the steps that your customers need to take in order to get the most value out of your product. With that knowledge, you're much better equipped to drive them in the right direction, rather than letting them fend for themselves.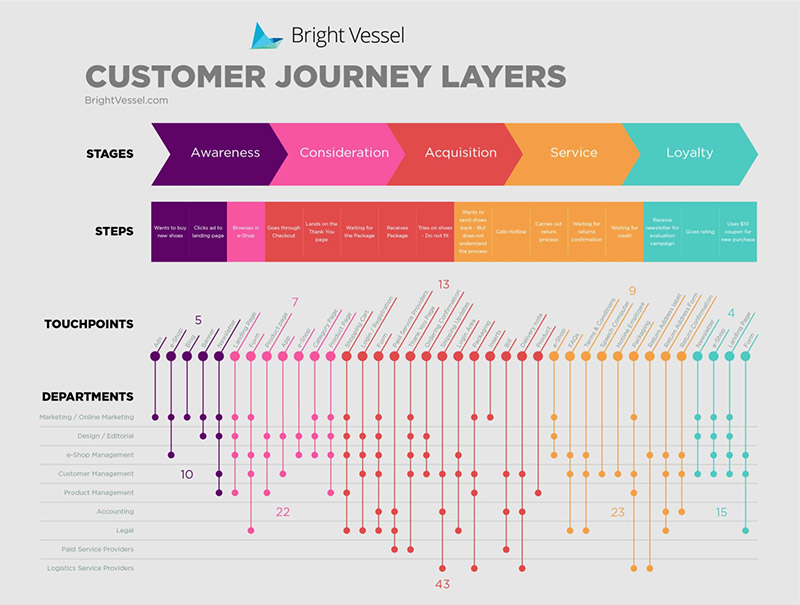 Customer journey mapping is the act of mapping out all of the points of contact that your customer has with your product. From the first view of one of your blogs all the way through to their potential churn date, your company can have a forecast for where your customers are going to go. Customer insights are integral to the production and ongoing accuracy of this map.
Beyond the advantages of making the map, using something like this helps prep your support team to provide timely and proactive support to your customers. For example, if you know that people usually reach out about account management around the 30 day mark, you can send out a proactive email campaign educating your users on account management best practices.
When you provide your users with a solution without them having to go through the trouble of reaching out, you make the whole experience feel effortless and magical. That's goals.
Providing Value to the Board & Executives with Insight
Your board and executives are the captains of the ship. They are responsible for making sure that your company gets to where it needs to go.
Customer insights give your executives a number of amazing data points that they can use to measure the effectiveness of new approaches. It's especially valuable given that they have the lay of the land and are able to compare your data with data inputs from other teams.
It allows them to forecast and predict the best strategies for the future, but also allows them to measure the effectiveness of current initiatives. It allows your company to back up your hypotheses with data.
This is incredibly important, too, given that strategies driven by gut feeling (rather than data) increase by almost 4X among less mature companies. As you grow, it becomes more and more important to couch your business decisions in data, rather than just on the unified sentiment of your leadership team. Sharing customer insights, such as product feedback, net promoter and customer satisfaction scores and high-ranking bug reports can help give your executive team additional context as they move forward.
Conclusion
Only 13% of organizations have the appropriate infrastructure in place to really kick a customer experience strategy off the ground. Sharing your customer insights across the company is a great first step in creating a strong foundation for customer-driven strategy. Everyone benefits from knowing what your customer is thinking and feeling. Just because some colleagues don't talk to users every day doesn't mean that they won't get value from reading customer insights.
Share bug reports, customer feedback, feature requests and any ongoing trends in volume across your company to ensure a more cohesive, unified strategy in product, marketing and beyond.
To learn best practices for collecting customer feedback, check out this article: How to collect customer feedback