Customer experience plays an important, if not the most important role in the success of any business. Nearly all companies (89%) believe that customer experience will be their primary basis for competition. How do you stand in that competition?
Customer experience management brings discipline to this somewhat vague and soft area: by establishing a systematic process for collecting, analyzing, and acting on the customer feedback, you'll be able to start taking the customer experience in control. This will lead you to reduce churn and increase your revenue.
Why do you need Customer Experience Management?
Customer experience refers to how customers perceive the interactions with your company. Customer experience cannot be changed in a day and it can not bring you results in a day. Improving customer experience is a never-ending process, that will pay you off in the long-term.
According to the statistics, 70% of buying experiences are based on how the customer feels they are being treated and at the same time 55% of consumers would pay more for a better customer experience.
Customer experience matters across all the channels and all the touchpoints of the customer journey. Customer experience management, if done properly, will result in better business KPIs, incl. customer churn and retention, higher advocacy, and finally revenue.
Recommended reading:
Business value and ROI of customer experience: the step-by-step guide
How to justify a CX program to your CEO
Voice of the customer: where to start?
Although customer experience management is a complex process, that differs in every company and industry, it can be adjusted to the same plan.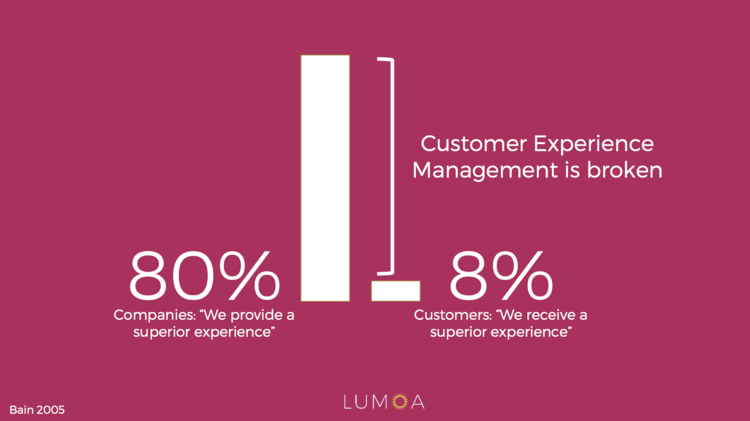 Many businesses are participating in the customer experience race: "whose cx is the latest and the greatest". Not many of them understand that customer experience race is not a sprint, but a marathon. First, it requires long-term thoroughly planned preparation. Second, you often have to work across functions, geographies or customer segments.
If you want to bring customer voice into your organization, recruit a cross-functional team, and consistently work on understanding the customer needs. Our step by step guide helps both to start and develop a voice of the customer program.
A. Define Roles
Who in your organization owns the customer experience? It could be your customer experience team, it could be the top management… In fact, all the departments should work together to be able to influence the customer experience.
Customer service is not a department, it's everyone's job.
Above is how the roles in an organization are typically defined. In a successful organization, everyone participates in the customer experience management. Can you say the same about your company? Having everyone on board is a necessity, not an option.
Eliminate company silos
1. Set a common customer experience metric and target for the organization.
Consolidate customer experience insights into one single dashboard and give all the teams access to the same insights about what is driving the metric up or down.
2. Help all teams to understand the key customer journeys and how their work contributes to the customer experience along the journey.
When there is a shared understanding of the customer journey, people typically manage to widen their perspective outside of their own silo.
3. Empower people to fix issues that go across the silos.
The attitude of taking an extra step when needed, instead of just waiting for someone else to fix the problem, is contagious: when employees see other people doing it, they get encouraged to try out as well.
In the end, customer experience depends on the work of all departments: from customer service and customer success teams to marketing, product, and HR. At the same time, committed leadership is essential to implement a comprehensive customer-centric approach.
B. Set targets
Customer experience goal and target setting are essential if you want to empower the whole organization to get onboard at customer experience management. It makes it a lot easier to mobilize the company if a customer experience metric is followed up at the leadership level, along with the other key performance indicators.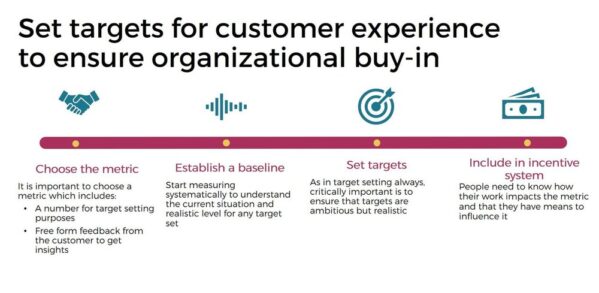 Setting up common customer experience targets across the organization keeps everyone aligned. Clear goals diminish miscommunication and build motivation across the teams.
Net Promoter Score® (NPS)
Net Promoter System has been proudly called "the only number you need to grow". At Lumoa, we love NPS and widely recommend it to our customers. Why did we choose NPS? The Net Promoter System is a powerful metric for target setting. It's also simple and short for customers to answer.
Other Customer experience KPIs
In addition to the main customer experience metrics based on customer feedback, you could follow several KPIs of the customer journey. These reliable indicators can provide insights into how your team can improve the customer journey overall. Beware that the choice of customer experience KPIs depends on your business.
Retention Rate
No secret, it is more expensive to acquire a new customer than to keep an old one. Knowing your retention rate will help you to understand the loyalty of your customers and help you to understand why your customers are staying or leaving. To understand the retention better, the KPIs such as churn rate, purchase frequency, the time between purchases and others. The choice largely depends on the nature of your business.
First response rate
First response rate measures how fast a customer received a reply from your company since the first contact was made. Most customers expect you to answer within 24 hours, but the earlier, the better.
Problem resolution time
It's the time it takes to resolve a customer problem.  Just as with the first response rate – the longer it takes to solve the issue, the unhappier customers are.
Contact volume by channel
Knowing the contact volume and ticket distribution by channel will help you to identify the main customer touchpoints that cause problems or are unclear to your customers.
Customer Lifetime Value (CLV)
Understanding CLV helps you to align your business goals to customer experience goals. CLV measures the financial value of one customer and has a strong bond to retention and loyalty.
C. Collect customer feedback
After you have understood the targets and metrics and defined roles of customer experience management, it's time for action. Asking for customer feedback is the very first step on the way to building a successful relationship between the customers and the brand.
Start by Measuring the overall experience
Some companies measure customer experience at every crucial customer touchpoint. That makes the results difficult to compare and analyze. By measuring the overall experience you receive consistent feedback about what drives customer experience satisfaction as a whole.
Cover the most critical touchpoints
Once you've identified the most critical touchpoints, extend feedback collection to the most critical individual touchpoints. Combining the individual touchpoint feedback results with the overall picture, determine the strengths and improvement needs per each key touchpoint.
Follow up with deeper surveys
If needed extend the depth of understanding with follow-up surveys. Send the more specific longer surveys to only those customers who have the particular issue you investigate. That will help you to gain a deep understanding of the important topics from the relevant users.
Tip: Measuring customer experience by the Net Promoter System gives you several advantages.
NPS could be easily implemented, it's simple and short for customers to fill in. At the same time, it's also an industry-standard metric, which means you could benchmark the results.
D. Analyze the feedback
How to analyze customer feedback if you receive 5000+ individual comments per day? How to analyze customer feedback in different languages? Before, you could spend tons of money and hire tens of people, only to process all the feedback. Some also simply ignored it or analyzed a small sample of all the feedback.
Now, with the help of modern technology, there're cost-effective ways to analyze the feedback. Text analytics help you to analyze the feedback in a fast and efficient manner, showing the tailored results valuable to your business.
Altogether, the process of feedback analysis could look like this:
Important note:
Unfortunately, many brands end their customer experience management journey here. Don't! When customers leave their feedback, they expect it to be heard. Proper customer experience management starts with setting up targets and defining the roles, goes through the stages of collecting, analyzing, and acting on feedback and ends with communicating the changes and bringing the customer to the heart of the business.
Modern technologies have made feedback analysis a very simple process. Now, all you really have to do is act on it.
E. Act on the feedback
That is the most important step in customer experience management. Listen to what your customers are saying and actually do something about it.
Acting on customer feedback can be done in two ways: resolving individual issues and changing the bigger picture. Both aspects are equally important for customer satisfaction and retention.
The best practices include:
Act on time. While bigger changes in the company might wait, the individual issues can't. Critical comments require immediate action if you want to eliminate customer churn.

Make it a part of the routine. Report results as a part of regular management reporting rhythm. Customer experience management is a consistent process.

Learn from each other. Share best practices across teams and organizational boundaries. Organize workshops, coaching, and training within the company.

Empower the whole organization to make improvements. Your starting point should be the customer journey, not an organizational department.

Cross-organizational silos. Changes implemented within silos seldom translate into significant CX improvements. Be clear about the goals and results of your customer success programs.
Recommended reading:
How to prioritize customer experience initiatives
F. Close the loop with the customers
Communicating the results of your customer experience management is as important as making the actual changes in your company.
Leverage your promoters
Promoters, who originally belong to the Promoter segment of the Net Promoter System, are also the people, who spread positive word-of-mouth, they're evangelists and recommend your business to friends or colleagues. Some ideas on how you could utilize your promoters include:
Understand the reasons why promoters love you – use those reasons in marketing. What some people love about your business might interest other people as well.

Encourage promoters to promote to new people, start a referral campaign.

Ask promoters to leave public feedback: to write a review or share their experience on social media.

Upsell to the promoters and introduce new/additional services and products.
Deal With The Detractors
Detractors, also a segment of Net Promoter System, are the customers on the edge of churning, that are highly dissatisfied and spread the negative word about your business. Turning your detractors into promoters might seem an impossible task at first, but it might be easier than it seems.
Fix the issue in the individual order, if possible.

Learn the reasons why your detractors are unhappy.

Provide guidance and communicate changes.

Show that you care – you won't always be able to provide a solution, but you should always reach out to each individual and provide help and assistance whenever possible.
Let everyone know that you listen and care
Communication is the king. Simple as that.
The customers who have provided you feedback, deserve to hear back from you

Aim to be more specific, besides just plainly thanking them.

Share what you have done based on the feedback.
G. Enhance customer-centric culture
A customer-centric culture is not born in one day. Customer-centric culture should be developed and supported.
Here're the essential assets you need to set up if you want to become a customer-centric company:
1. Shared targets
Set targets and incentivize. In many organizations, the best way to ensure wide participation in customer experience improvement is to include a CX metric, such as NPS, incorporate scorecards and bonus systems. This is particularly important for employees, who face customers only indirectly, but still, have a significant influence on their experience.
2. Shared understanding
Bring customer obsession into the everyday life of your company. Make sure, everyone in the company is aligned across customer experience expectations.
Share data and results of the customer experience analytics in an easy-to-use tool. This ensures that there is a shared understanding of what matters. The company can shift from rumors and opinions to fact-based decision making.
3. Let the Choice of Customer Be Heard
Ensure that people can access not only the analytics results but also the customer comments – hearing the voice of your customer and reading the real comments with all their emotions can be a strong tool to motivate people to act on the feedback. Knowing that the leadership also reads customer comments helps in the customer-centric cultural transformation as well.
Recommended reading on Customer experience
Here are some of our favourite articles about customer experience: