Become Lumoa's Partner
Let's combine forces to help clients in their journey towards truly customer centric organizations!
Join our growing network of consulting, design, technology and system integrator partners to together deliver even more value to customers with the help of Lumoa's AI-powered insight engine.
Get in touch to learn more about becoming a partner.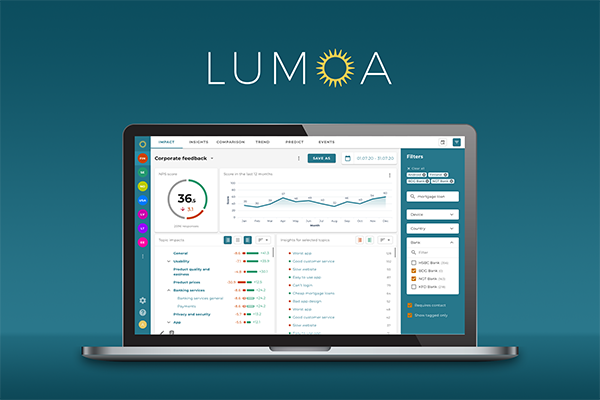 Why use Lumoa?
Bring all voice of customer in one view – for everyone
Lumoa brings all voice of customer into one view so it's easy to prioritize the right improvement areas.
Eliminate manual work in creating insights
Lumoa's proprietary AI engine that includes both topic modelling and sentiment analysis, turns any open text into actionable insights. Accross 60+ languages.
Take action based on prioritised topics
Lumoa's events view and smart notifications make sure you and your clients stay upto date on critical insights and can automatically assign tasks to right people.
Collect feedback with Lumoa or partner surveys
Make collecting feedback easy with Lumoa's surveying solution. Or use any of our partner solutions optimized for different touchpoints.
Understand rootcauses and improve KPIs
Lumoa tells you what topics are impacting each KPI and by how much. And helps you identify rootcauses and improve.
Lumoa is also easy to integrate to other solutions and business processes.
Why Partner with Lumoa?
Use Lumoa for free*
If you have potential Lumoa customers as customers you can use Lumoa for free internally. (with certain limitations)
Earn commissions
Earn commissions for each new customer you bring to Lumoa.
Sell more & longer projects
With Lumoa you get a holistic understanding of the improvement areas your customers have and can systemically help them developing their customer focused KPIs.
Partner tools
Lumoa offers special tools for partners to allow them to create accounts, act as admin users for their customers and more.
Trainings & support
We offer regular trainings, extensive knowledge base, named partner success manager and email support.
More customers and visibility
Besides listing our partners in our partner directory, we also promote our partnerships to our customers and prospects e.g. through our newsletters, social media, blog, and webinars.
Who are our typical Partners?
These are just some examples of the type of companies we partner with to together help our customers to become more customer centric.
Market Research & Surveys
Our market research partners utilize our powerful AI-powered text analytics to find important and actionable insights from open ended questions in surveys, brand research and social media.
CX Agencies & Consultants
Our consulting & service design partners help their clients in transformations towards customer-centric organization, and use Lumoa as the platform to support the transformation.
Solution providers & IT
Our solution provider partners help their customers in linking Lumoa's analytics and insight management into their business infrastructure and processes to get better insights and make more informed decisions.
Some of our partners
Here are some partners that we are collaborating with
The leading customer experience and market research technology provider.
The most comprehensive survey platform found on the market. Perfect for even the most advanced market research.
Sales acceleration platform that makes it easy to create interactions & collect feedback on websites e.g. throught pop-ups.
CX Consultancy that helps digital companies become truly customer centric.
One of the Nordic region's leading market research, insight and panel companies.
Helping companies recruit test users and other study participants.
Consultantancy for strategic development of customer experience.
Norwegian Communication and technology bureau specialising in Customer Experience strategical consulting, co-creative workshops, and experience design processes.