If you looked back just 12 months ago, the phrase "oh, I forgot my mask" wouldn't mean much to you. "I've been self-isolating" would be equally unusual. And just like these new phrases have become commonplace in 2021, new customer experience trends are popping up as well.
Not only has the world changed, but technology has improved, and companies have been finding new ways to provide customers with a great experience. Staying on top of trends means that your organization won't fall behind.
7 Customer Experience Trends to Know in 2021
Here are seven trends that will keep your customer experience strategy on top.
#1 Customer insights are a company-wide resource
Even just a few years ago, customer insights or feedback were collected and owned solely by the CX or marketing team. They'd organize surveys and listen to customers and then try to share these insights with other teams.
But now, more organizations are realizing how essential customer insights are to developing a customer-centric business. From product and service design, to support, sales and management, more and more teams are starting to harness the power of customer insights. When everything you do is validated by your customers, you'll create a business that retains customers.
Checkout our article "Customer Experience, whose business is it?" if you want to learn more about how different teams and department within the organization can benefit by improved customer experience.
#2 Companies are using CX to create a competitive advantage
Customers have more options than ever before. When everyone is shopping online, the nearest competitor is only a search away. To stay relevant, companies are using CX to create a competitive advantage.
In 2018, two-thirds of companies were competing solely on CX and that number is only expected to grow. That's because it works. A positive customer experience directly correlates to a business's success, yielding 20% higher satisfaction rates and 10-15% higher conversion rates. Zendesk's report confirmed this, with 75% of customers reporting they would spend more to buy from a company that offers good CX.
One way to ensure your company stands out from the competition is by personalizing the customer experience. According to an 2020 study on personalization by Epsilon and GBH Insights, "the vast majority of respondents (80 percent) want personalization from retailers".
In fact, personalization is becoming so ubiquitous that customers rarely notice when it's done right, but are put off when it's missing or done wrong.
#3 CX insights are captured in real-time
Organizations can't rely on annual or bi-annual survey data anymore… customers expect change much faster. By the time the survey has been sent out, responded to, and analyzed, customers have already moved onto the next big thing.
Fortunately, technology is keeping up with these demands. In 2021, companies will need to focus on measuring the CX at each touchpoint along the customer journey. These results should then be analyzed in real-time so you always have the most up-to-date view of the current CX status.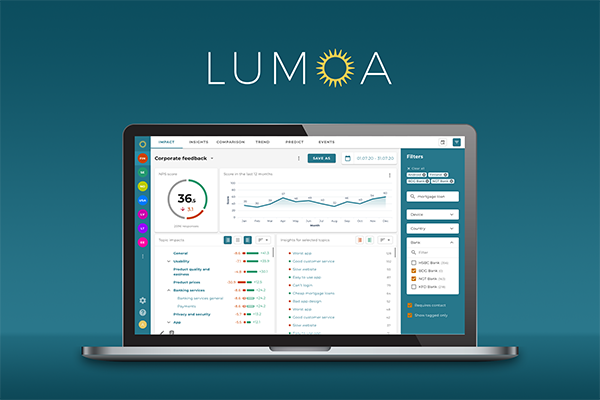 Secondly, not only does this insight get funneled back into product and service design, but it also can be responded to in real-time. Customers want you to listen and take action immediately when they leave feedback.
Up to 70% of customers who register a complaint will purchase from you again if their complaint is resolved. But that number of return shoppers increases to a nearly perfect 95% if they felt it was resolved quickly. While mistakes happen, closing the loop and addressing the issue quickly can prevent customers from walking out the door.
#4 The value of CX is linked to financial growth
CX is not just about "doing the right thing" anymore. Rather than a cost center, CX has become as important as any other part of the organization, providing a positive impact on revenue and profitability.
To participate in this growing trend, it's become more important than ever that you can measure the impact of your CX improvements not only with CX-related metrics, but also business-critical metrics.
Linking CX initiatives to financial growth is crucial – just like in any other department. Again, improvements in technology have made connecting the dots easier.
A customer insights tool like Lumoa will reveal the drivers that have the biggest impact on your business, so you can understand how CX investment helps your business grow.
#5 Voice feedback is analyzed for CX insights
Voice conversations have traditionally been difficult to get insights from. Call centers could only rely on transcription or post-call surveys to understand what customers wanted – neither of which were particularly accurate nor scalable.
Now, CX insights have moved beyond text feedback to analyzing and measuring the experience of customer service or sales calls.
These conversations are full of rich insights that can help improve service delivery and product development. With new advancements in Natural Language Processing and speech to text recognition, organizations are seeing more value from analyzing their customer voice conversations – with less time and effort invested in the analysis.
#6 Good data safety and processing policy is good CX
Providing your customers with a good experience also means taking good care of their private data. Not only is there a renewed interest in data safety, there are also new data protection laws and restrictions that have come into force.
While organizations must continue to adhere to GPDR, there are new rulings that impact data management as well, such as the EU-US privacy shield ruling of 2020 preventing data transfers from Europe to the US under most circumstances. 
However, data is often the fuel that drives CX personalization. Bain & Company accurately describes the balance companies need to achieve with storing and using data:
"Privacy concerns have become acute as companies, governments and other organizations collect more customer data. For most companies, data helps them to better understand their customers, so that they can provide customized service and distinguish themselves from competitors. However, some firms have been selling consumer data to third parties, prompting regulators to intervene."
Therefore, it's vital that the CX platforms you use to manage private data and customer information are always secure.
Not just because it's the right thing to do, but because it aligns with new data security standards, and because your customers rely on you to do so.
This trend is only going to continue gaining momentum in the future. As it stands, 48% of customers have stopped doing business with a company because they were concerned about their data privacy — making data security a top issue when it comes to customer loyalty.  
#7 Companies are using AI for predictive analytics
AI has been on most CX trend lists for the past few years. And it's not going away anytime soon. With the ongoing advancements in AI, this powerful tool is now more useful and more widely available for CX teams.
This is great news for teams that are looking to dig deeper into their Voice of Customer data.
Rather than just describing how things are, AI analytical tools for CX can diagnose why things are the way they are, and provide suggestions on how to improve. McKinsey highlights predictive analytics as one of their top trends for 2021, because of the far-reaching effects these platforms can have: 
"Predictive CX platforms allow companies to better measure and manage their CX performance; they also inform and improve strategic decision making. These systems make it possible for CX leaders to create an accurate and quantified view of the factors that are propelling customer experience and business performance, and they become the foundation to link CX to value and to build clear business cases for CX improvement."
Looking ahead in customer experience trends
While trends and technology evolve, there is one thing that is never going out of style: listening to your customers. As their needs change, staying responsive will keep you on the cutting edge of CX trends.