Just as with customer experience in every other business segment, eCommerce customer experience is growing increasingly important in our current economic climate. The eCommerce market is expected to grow by 11 trillion dollars between 2021-2025. The pandemic has really spiked up the eCommerce market since many brick-and-mortar retails have been forced to take their business online. The amount of eCommerce sites is estimated to be 12-24 million across the globe, with new sites popping up every day.
There are almost no barriers to establishing a functioning eCommerce site – the only thing you really need is a functioning website. Consequently, having a rock-solid CX strategy is more important than ever before. A clear CX strategy will help you stand out from the big crowd and ensure customers don't churn because of ineffective purchase processes and bad experiences.
Typically, customer experience and UX professionals rely on tools like Google Analytics or Hotjar to understand what their customers are doing and feeling. But making assumptions based solely on data, without any qualitative or experiential information backing it up leads to a soulless, crumby experience overall.
You can't know the "why" behind a customer's actions unless you ask them. And their reasons are likely changing as their daily habits change.
In this article, we'll talk about key strategies to improve your eCommerce customer experience, how to create a more memorable customer journey for your users, and the best ways to incite loyalty and excitement.
1. Identify Barriers in the purchasing process
When customers have committed to buying something, the worst thing that you could do is put a barrier in front of them actually purchasing or receiving the product. Right now, that barrier could show up as supply chain issues, problems with the website, shipping delays, or even flaws in your product that make the purchasing experience difficult.
Focus the brunt of your eCommerce customer experience strategy work on making the buying process as easy as possible, and your customers will remember that long after they've received and started enjoying their purchase.
Take, for example, functional kids' wear brand Reima. As they started to look into the reasons behind their customers' behaviour, they identified issues related to their mobile user experience as well as problems with the usability of the shopping basket in their online store.
When you do this consistently, as Reima is now able to do, then you can discover issues in different platforms, in different products, even in different languages that affect your digital customer experience and make it difficult for users to purchase.
Take the time to understand where and why your purchasing process doesn't hold up, and dedicate resources to fixing it. You don't want your customers' first experience with your brand to be memorable because of how negative it was.
2. Know your customers goals
If you're trying to provide an excellent eCommerce customer experience, you need to understand what your buyers are trying to accomplish and what their preferred way to get there is.
One of the best ways is to create a company-wide customer journey map.
This should include points of contact from every organization within the company: sales, support, marketing, and even engineering. Once you have this mapped out for everyone to see, you can start to tailor your experience to allow the customer to navigate the process as easily as possible. Take as much work out of your customers' hands to get where they need to go, and your experience and product will feel effortless and easy.
Craft onboarding experiences, product onboarding videos, blog posts, UI changes and purchasing paths to specifically reflect the things that your customer cares the most about.
3. Combine quantitative and qualitative
eCommerce customer experience designers sometimes have the tendency to think about either qualitative or quantitative data as being the end-all-be-all of their metrics. But there are benefits to both, and they're especially useful when you view them together.
Viewing both qualitative and quantitative data, either side-by-side of combined allows you to:
Identify issues and obtain information not typically collected by quantitative surveys. For example, you can hear in your customer's own words what they do or do not like about your product.
Generate hypotheses from qualitative work to be tested through a quantitative approach. Confirm your gut feelings and back them up with data!
Use qualitative data to understand surprising results from quantitative data. If the numbers don't necessarily make sense, take anecdotes from your qualitative data to try to understand.
Triangulate data accuracy. Verify or reject results from quantitative data using qualitative data (or vice versa).
The UK-based watch retailer WatchShop has understood the importance of combining quantitative and qualitative data.
They had always collected behavioural data from tools like Google Analytics and Hotjar. But to actually get to the bottom of the issues their customers were experiencing, they had to cross-check the behavioural data with insights coming from real customer feedback.
This new approach helped them to increase their conversion rate by 10%, and they now systematically use both quantitative and qualitative data to inform their actions.
That being said, there are so many different ways to look at the data that it might feel difficult to know which one to pick. While there's never a one-size-fits-all strategy when it comes to key performance indicators, there are a few good rules of thumb to follow.
Calculate individual segments separately
Different customers will care about different parts of the customer experience. For instance, your enterprise customers may care about getting the correct answer as quickly as possible, whereas a trial (or free) user, might just be happy to receive a personalized response.
Customize the success metrics that you use for each individual user segment—there may be some overlap, but the metrics should address the individual needs and wants of each segment.
Monitor both in real-time and over-time
It's great to know how your customers feel in the moment or over the past week, but it's also important to compare that to how your team was performing a year ago or longer.
Being able to view analytics in both contexts helps your team understand what you're doing well (now and historically), and what things are opportunities for your team moving forward.
Survey at the right time with journey analytics
Make sure that you're asking your questions and surveying at the right time. Your survey questions can mean totally different things to your customers, depending on when you ask them.

Image Source: Primary Intelligence
Make sure that you target the correct types of inquiries at the right time to avoid asking leading questions. If you're curating your answers, they will be less meaningful in the long run— especially if you're actually trying to make a change to your customer experience and not just boost your own vanity.
4. Act on Customer feedback
According to Microsoft, brands are viewed more favorably by 77% of consumers if they proactively invite and accept customer feedback. And of course, it's not only about getting feedback from customers, but it's about making sure that action follows the feedback.
Here are some ideas for eCommerce and retailers to get this going.
Collect customer feedback systematically
To act on customer feedback you first have to get customer feedback (obviously). However, the main point here is that you need to be systematic with it. Don't just send random surveys once or twice a year. You should continuously be collecting customer feedback at important touch-points within the customer journey.
eCommerce companies, for example, care about understanding how your customers experience the check-out process. Therefore, it would make sense to ask for feedback after a customer has made the purchase. Another option would be to ask for customer feedback after a customer has interacted with your customer support.
By collecting feedback systematically at the touch-points that are most valuable to you, you will start to get an idea of how your customers experience these crucial interactions.
Use open-ended feedback
A sure way to get insights you can act on is to use some form of open-text field. And here is a little tip for you: if your eCommerce site or brand can be found on a review site, you are most likely already getting open text feedback.
You can also add an open-text field to your own surveys, so that customers will get a chance to elaborate on their feelings towards your brand and give you more details about their experience.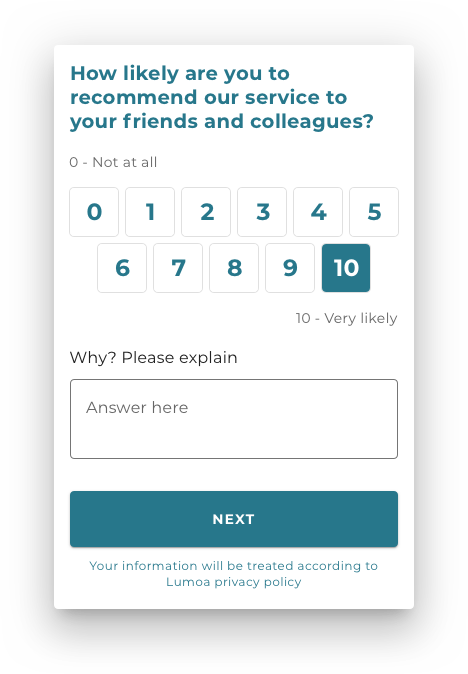 Find the insights you can act on
When you have ensured that you have a source for getting open-text feedback, you can take the next steps and start extracting insights from it. There are mainly two ways to extract insights from customer feedback.
Do it manually – This can be a real pain to do if you get a lot of customer feedback, especially if it comes from different sources, and it's in different languages. But if you're just starting, or don't get a lot of feedback, then this is the best way forward. You can for example use excel to go through your feedback and identify common patterns from it.
Using a tool that automatically extracts insights – If you get more than 500 feedbacks per month or you get feedback in different languages, and really aim to take customer experience seriously, then I would strongly suggest taking a tool that can help you out. Lumoa can in just a few minutes analyze all your feedback (in 60+ different languages) and show you exactly what to do next to improve your results.
Share the insights in your company
Now that you know what are the items that impact your customer experience, you need a way to distribute the insights to the teams or departments that can follow up with action.
Let's say that you identified from your insights that your mobile app crashes when your customers are trying to pay. This insight should be shared with your development team so they can fix the bug. Or perhaps you found that your customers are annoyed by the frequent marketing promotion emails that you send – this is an insight that should be shared with your marketing team.
Suunto is a company that manufactures and sells sport watches and other equipment via their online shop. They collect customer feedback, and one way they use that is to prioritise changes to their product line. The insights they find by analysing the open text comments of their customers are made available to the development team, the product management, and the designers, that can then make sure they continue to manufacture products their customers will buy and love.
Effortless and easy is best
Using your product or paying for your services shouldn't feel like work to your customer. The best eCommerce customer experience strategy is creating a seamless experience that feels like your team isn't even there. Allow your customer to help themselves, but be present and active as soon as they indicate that they need you. You should blend into the scenery when things are going as planned, but be ready to pop up to help in the moment. Your customers will appreciate your proactivity!