New technology has driven organizations to undergo digital transformations, as a result, we see a shift in consumer behavior. Apps, machine learning, AI and other types of new technology have made it possible for consumers to do almost whatever they want- whenever they want– wherever they want.
As a consequence of the increased usage of digital technology, customers' expectations of digital services are higher than ever – making the digital customer experience more important than ever.
Digital customer experience is the online experience and the journey your customers go through while interacting with your brand. In other words, any brand-specific interactions that a customer has with you online is a part of the digital experience.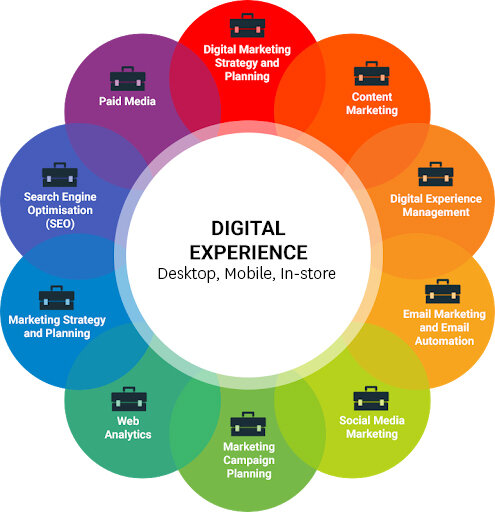 How do you meet the expectations?
Here are 5 tips on how you can improve the digital customer experience within your organization.
1. Understand your customers' behaviors
To understand how the digital experience should look like your first you have to understand who your customers are and their behaviors. The best way to do that is to create a customer journey map for your different buyer personas.
By first understanding the different behaviors of your customers, it's much easier to get a hold of what their expectations of the digital experience can look like. Creating customer journey maps is a way to help you manage and outline the digital experience.

2. Focus on self-service
As businesses or organizations are becoming more tech-savvy, so are their customers as well. Customers are more used to manage things by themselves online. Consequently, customers have higher expectations of what kind of things you can manage by yourself online. In fact, 70% of customers actually expect a company's website to include self-service options.
Typical examples of self-services are FAQs, knowledge base and online discussion forums.
3. Omnichannel customer interactions
Customers want to be able to contact you on their terms. Omnichannel provides your customers with an integrated, unified buying and support experience with your brand across channels and devices.
According to Freshdesk, stats show that 47% of consumers admit to using three to five different communication channels to get in touch with a specific company. Therefore, it's in companies' interest to communicate and connect with customers in different touchpoints.
4. Optimize for mobile
Consumers live through their phones nowadays. You can order food, do your grocery shopping, order cleaning and do all kinds of shopping via your phone. By 2021 it's expected that most online purchases will be done mainly through phones.
Soon almost everything can be managed through your phone, with that said, it makes sense to make sure that your website, app or other materials found online is optimized for mobile so that the customer experience meets the expectations of your customer.
Two basic things that you should focus on when it comes to mobile optimization is page load time and ease of navigation. A study done by Google found that 40% of customers will leave a page that takes longer than three seconds to load. The same study found that 59% of mobile users have a more positive feeling about companies whose mobile sites or apps allowed them to make purchases faster.
5. Measuring customer satisfaction
We have shared a few tips that will help you to improve your digital customer experience. Although these are tips that are applicable in almost any industry, it's important to recognize that every company has different needs and different types of customers which means that the customers' expectation of the digital experience is different in different companies.
Therefore, it's really important that organizations collect customer feedback from their customers – so that you really know if you're meeting the expectations of your customers or not. Lumoa is a tool where you can easily track the voice of your customers on all your digital channels.